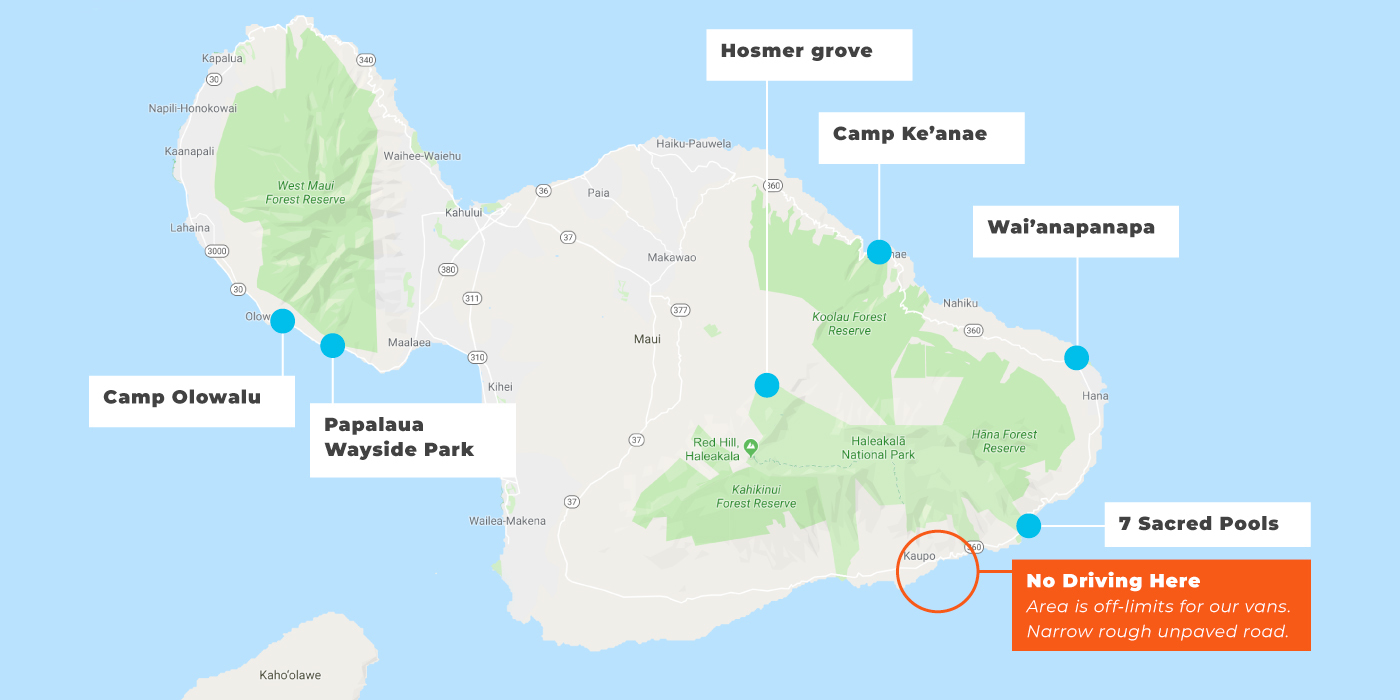 Hawai'i Camping
*****Now that Campervan Hawai'i has campervans located on multiple islands, we will be updating this camping page in the upcoming weeks to include camping options on Oahu and Hawai'i islands but for now, see below for camping options on Maui.

Maui Camping

Maui has great camping all around the island from the west Maui beaches to the jungles of Hana to the top of a volcano. One thing to note is that the County of Maui and State of Hawaii campgrounds require permits to camp at. You must obtain a permit prior to showing up to camp as there are no onsite ways to get a permit.
Camping information is subject to change without notice. Please contact the applicable local office for current information.
---
Features
Drinkable Water
Car Access
Cold Temps
Restrooms
Non-Potable Water
Cabins Available
Beach Access
Showers
---
Haleakala National Park Campgrounds
Currently Closed Due to COVID
The entrance fee to Haleakala costs $25 for three days and includes camping for free at any of their campgrounds. Haleakala National Park has both vehicle campgrounds and hike-in campgrounds. The two campervan accessible campgrounds are Kipahulu Campground and Hosmer Grove Campground.
Haleakala Wilderness Camping
For those who want to see some of the most beautiful landscape and camp inside a crater, you can hike in to the more challenging Hōlua and Palikū campsites but this requires you to sleep somewhere not as comfortable as you campervan, a tent or a rustic cabin.
You can get a free permit with admission to Haleakala National Park and at these sites are tent areas and rustic cabins built in the 1930's. There is no light pollution and the starwatching is some of the best Maui has to offer. They have pit toilets and non-potable water nearby so you must pack in water or treat the water before drinking.
Kipahulu Campground
Currently Closed Due to COVID
Located 12 miles past Hana, near the pools at Ohe'o (Seven Sacred Pools), close to the ocean. It has picnic tables, BBQ grills and outdoor pit toilets. No drinking water so bring your own. The road to Hana with its countless waterfalls, the windy narrow roads and greenery is an attraction in itself.
Kipahulu offers a series of waterfalls forming about 20 separate pools to swim and play in. There is also a great hike here along the stream, past waterfalls and through a great bamboo forest.
Hosmer Grove Campground
Currently Closed Due to COVID
This Campground lies in the cloud belt of Haleakalā, just below the 7,000-foot level (2134m) in the summit area. Be prepared for rain and cold weather. Nighttime temperatures can drop into the to near freezing (0°C); daytime highs average 50-65°F (10-18°C). The campground has picnic tables, BBQ grills, drinking water, and pit toilets. There is great birdwatching and a chance to catch a rare siting of the Iwi'iwi which is one of Hawaii's rare birds that only eats nectar from native Hawaiian plants
Palikū Campsite
At 6,380 feet, Palikū is on the east end of the Wilderness valley at the base of a rain forest cliff. The campsite is reached starting at the summit via a strenuous 9.3 mile (15km) hike on the Sliding Sands Trail or 10.4m on Halemauʻu Trail. Clouds and fog often roll over the top of the cliffs behind Palikū, and rain is common. The extra moisture makes this spot exceptionally cool and lush.
Hōlua Campsite
Hōlua, the Wilderness campsite reached by the shortest hike, lies at 6,940 feet in the shrubland near Ko`olau Gap. You can park the campervan at the Halemau'u Trailhead and have a pretty short 3.7 mile hike down the Halemau`u Trail to the campground. If you are more adventurous, you can start your hike at the summit and hike 7.4 miles down on the Sliding Sands trail to the campground. The next day, you can complete a loop by hiking out the Halemau`u Trail to the Halemau`u Trailhead and find you way back up to the summit on the road.
Wai'anapanapa State Park Campground
Currently Closed Due to COVID
This campsite is located on the ocean, off the Hana Hwy 360 right before Hana.
The camping fee is $18 per campsite per night for up to 6 persons & $3 per night for each additional person, with a maximum fee per site of $30/night.
Children up to 2 years of age are free.
(For Hawaii residents, the fee is less, see the reservations link)
Maximum stayis 5 consecutive days.
Papalaua Wayside County Park Campground
Currently Closed Due to COVID
The park lies along Honoapiilani Hwy # 30 on the way to Lahaina along a sandy beach with excellent snorkeling. Shade is provided by kiawe trees. No water supply available. Portable toilets and BBQ grills. Closed Tuesday and Wednesday.
This campground requires a permit acquired from the offices listed below by either mail or walk-in. Maximum length of stay 3 consecutive nights at each campsite. Cost is $10 per day per adult ($20 on weekends). $6 per day for child under 18 ($12 on weekends). There is a 50% discount for Hawaii residents.
Camp Olowalu
Recently renovated, the camp is on the ocean along Hwy 30 about 6 miles south of Lahaina at Olowalu. It is in a grove of mature trees with picnic tables, drinking water, showers and toilets. Swimming and snorkeling are good and in the winter months a nice place to watch whales.
Per-person camping fees are $20/night, $5/night for children 9-17, and free for children younger than 9 years. Has all campground ammenities (laundry, etc.) including free WiFi.
Address:
800 Olowalu Village Road
Lahaina, HI 96761
Phone:
YMCA Camp Ke'anae
Currently Closed Due to COVID
The camp is located on Hana Hwy 360 about 34 miles from Kahului. It has campervan, tent, and cabin facilities.
Camping fee is $25 per person per night or $40 per family. Children 4 years and under are free. Reservations required.
Address:
13375 Hana Highway
Haiku, HI  96708
Phone: